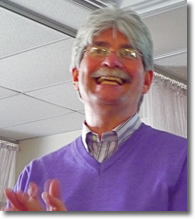 Dr. Gary Cone, Ph.D., L.A.D.C./MH, MAC, D.CEP, Certified Radical Forgiveness Practitioner, Radical Living Master Coach, Radical Living Ceremony Leader and Workshop Presenter and Conscious Evolution Coach, received his Masters of Science degree from the University of Central Oklahoma in Human Development and Family Relations and a doctorate in Energy Medicine at Greenwich University, Norfolk, Island under the direction of Dr. Norman Shealy, Md., Ph.D. and Carolyn Myss, Author, Teacher, Medical Intuitive.
Dr. Cone founded the "Center for Transpersonal Healing" in Oklahoma City in 1992 and changed its name to "The Cone Center - Living in Choice" in 2007. In the last decade and a half, he has developed and utilized the Energy Matrix Clearing System©, a system of clearing energy blockages from the human biofield, leading to  dysfunction in the physical, mental, emotional and spiritual bodies. EMCS is the primary Energy Medicine/Energy Psychology modality in his private practice.
The Living in Choice Addiction Transformation Process is founded in EMCS© and other EM/EP practices. In addition to his expertise in the areas of EM/EP practices, Drug and Alcohol treatment and human consciousness, Dr. Cone is a licensed scientific investigator for the Institute of Technical Energy Medicine for the purposes of research and clinical analysis using Resonant Field Imaging™. He is a Reiki Master, founder and Minister of The Blessed Way Essene New Life Church (Paths of Light Spiritual Center).
His studies with James O'Dea, author of The Conscious Activist, Cultivating Peace, and Soul Awakening Practice,  on Cultivating Peace, including participation in the International Conscious Evolution Group in 2013/14 served to broaden his already extensive knowledge in the area of human consciousness.
Dr. Cone is certified by the Radical Forgiveness Institute with the following certifications: Radical Living Master Coach which includes: Radical Forgiveness, Radical Self-Forgiveness, Radical Self-Acceptance, Radical Grieving and Radical Manifestation. He periodically presents workshops in all areas of Radical Forgiveness. 
Dr. Cone is honored and privileged to have studied with the late Barbara Marx Hubbard, world-renowned evolutionary educator, speaker and author, founder of The Foundation for Conscious Evolution, co-founder of the Association for Global New Thought and the World Future Society. In Barbara's own words, "We incarnate Universal Intelligence as the Impulse of Evolution within us. Entering the Wheel of Cocreation, we join in consciousness with a global communion of pioneering souls that are in the process of cocreating the emerging world. We nurture what is arising in ourselves as we enter the Cosmic Mystery together."
Dr. Cones work with clients and groups is founded in his deep understanding of consciousness and clinical experience in addictions and mental health whose primary focus is an accelerated expansion of individual consciousness and therefore, global human consciousness.
His ability to synthesize energy/information from many sources allows for a loving and deeply insightful perspective creating a focus for clients leading to growth in consciousness, elimination of limiting beliefs and patterns, as well as clearing emotional attachment to traumatic life experiences. His "tool" box is extensive and his passion for learning provides the client with on-going growth opportunities based in the most advanced techniques from Energy Medicine and Energyinformatic Science including Human Design: The Science of Differentiation. 
 "Gary provides a holistic approach to awakened consciousness, combining his work in Radical Forgiveness™, Emotional Freedom Technique (a form of Energy Psychology), and Conscious Evolution Coaching, with his Doctorate in Energy Medicine and years of experience in the field of addictions and mental health counseling to guide clients to "remember" their true identity as "children of light." Gary, an ordained Essene minister, holds a Ph.D. in Energy Medicine,  M.S. degree in Human Development and Family Relations, and is an Internationally Certified Alcohol and Drug Counselor and holds a Diplomate in Comprehensive Energy Psychology from the Association of Comprehensive Energy Psychology. Gary has spent many years on his own journey to higher consciousness and has proven to be a compassionate and empathetic guide for many hundreds of clients over the years." 
Personal Statement
 Gary's mission is to elevate the consciousness of each person with whom he works having the intention of creating peace and joy in each individual heart and thereby, the whole of humanity.
Memberships:
• The International Society for the Study of Subtle Energies and Energy Medicine
• Oklahoma Drug and Alcohol Professional Counselors Association
• NAADAC - National Association
• The Institute For Radical Forgiveness
• Electronic Medicine Association
• ACEP - Association for Comprehensive Energy Psychology